Titan Steel Projects Chooses Steel Connexions
17th December 2009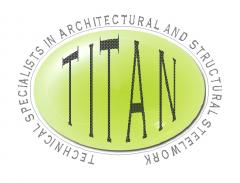 Newly formed sub-contract Drawing Office - Titan Steel Projects Ltd - has invested in marketing opportunities with Steel Connexions Ltd and can be found in the Drawing Office section of Industry Services. Read more....
Steel Detailing
Low Rise & High Rise Steel Frame Buildings; Portal Frame Buildings; Platform Steelwork; Mezzanine Floor Steelwork; Walkways; Gantries; Conveyor & Process Steelwork; Pressure Vessels, Ducts & Tanks; Staircases, Ladders & Handrailing; Canopies & Balconies; Bespoke Architectural Steel; Metal Art Commissions & Scultures
Titan Steel Projects conducts business to the highest standards with an ethical, professional and client friendly approach, coupled with excellent communication systems ensures we successfully deliver on time every time.
Titan Steel Projects welcome enquiries of all sizes and type at any time.
Titan Steel Projects Ltd
Spring Cottage
Billinge Road
Pemberton
Wigan WN5 9JE
Tel: 01942 517428
Fax: 01942 517428
Mob: 07809 657546